The Adopt-a-Species Program exists to increase students' understanding of ecosystems and appreciation for the natural world through comprehensive study of Montana wildlife species. The Foundation for Animals, the Helena-Lewis and Clark National Forest, Montana Fish, Wildlife and Parks and Montana Discovery Foundation have provided the program to 19 area schools for many years. We kick off the school year with an assembly and unveiling ceremony, then end the year with an art and writing contest that is published in the Helena Independent Record.
Each school receives a trunk with a different species including resources (programs, materials, activities) to help students learn about their animal and its habitat needs. Within this scope, students study and learn about their species, then educate and entertain others with poems, essays, and artwork. They develop exhibits, write songs, produce videos, and design web pages dedicated to their animal and its habitat, sharing their knowledge and vision with others.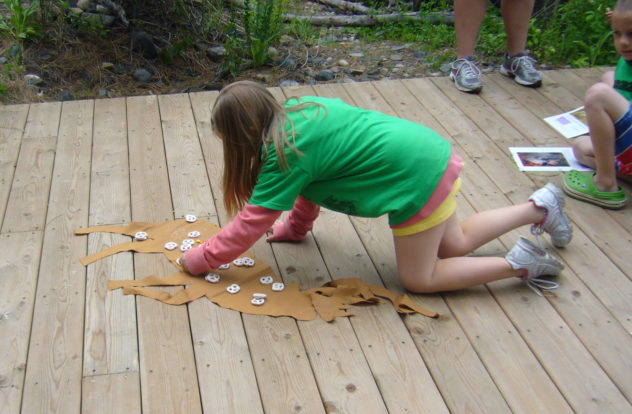 Other program extensions include study activities, presentations and field trips, on-site visits, assemblies, and habitat enhancement. Education trunks have been assembled to serve as a traveling curriculum for the 19 species. Each classroom adds material , including study activities, resource materials, artwork, games, puzzles, writings, musical cassette tapes, and other items related to that species. Additional community outreach activities have included posters/artwork for billboards, business window displays, and magazine articles.
Earth Day has become a focus of the Adopt-a-Species Program with community events that have included speakers, educational films, and special presentations. Singer/songwriter Walkin' Jim Stoltz; Carrie Hunt and the Karelian Bear Dogs from the Wind River Institute; Blackfeet Poet-Singer Jack Gladstone; and wildlife advocate Vince Yannon have all played a part in helping students gain understanding and appreciation for the importance of habitat and conservation.
Local students' participation and interest in the Adopt-a-Species Program is evidence that young people care about the natural environment and want to learn more. They realize that the natural environment, from parks and mountains, to water and air, is affected by the actions of people both young and old. On behalf of the partners, students and teachers of the Adopt-a-Species Program, it is our hope that many will learn and enjoy the work this program exhibits throughout the community and in local schools.
RESOURCES:
The intent of the Adopt-a-Species program is to incorporate each species and its habitat into daily lesson plans. As such, there is no set curricula for any of the trunks. The committee produces 2 educator newsletters each year with some suggestions and other reference materials to assist teachers in using this program in their classrooms.
The theme for the 2009-2010 school year was Connecting Native Cultures. Click here (this link will become available as we update our new website) to learn how a native Crow speaker says the species names of 13 animals in this program.